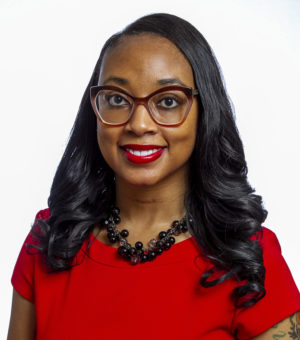 Maegan Day serves as an Assistant Principal at Temple High School in the Carroll County School District. A native of Villa Rica, GA, Maegan received her Bachelors of Arts in History from Fort Valley State University in 2011 and received her Masters of Arts in History in 2013 from Jacksonville State University. In 2022, Maegan obtained her Tier 1 Leadership Certification from the University of West Georgia. In 2019, Maegan returned to her community to continue her career as an educator with 10 years of experience. It was during that time that she originated and launched the PEARLS, a program designed to support young ladies within the Carroll County School District.
The PEARLS program aims to teach young women the value of prioritizing social emotional wellness, goal setting, and etiquette. The program accomplishes this through mentors who help the girls to strengthen social and emotional wellness, develop plans to meet short and long term academic and career goals, and develop etiquette and social graces. The program also prioritizes service, teaching the girls to serve their communities proudly through community service opportunities.
Maegan is a proud member of Alpha Kappa Alpha Sorority, Incorporated, and is also a Times Georgian Rising Star, 40 under 40 nominee. She is the recipient of the Tri- Mu Chapter of Omega Psi Phi Fraternity Incorporated 2022 Citizen of the Year Award. Maegan resides in Villa Rica, Georgia with her husband, Justin Day, Sr, and two children Maelee and Justin, Jr. In her free time, Maegan enjoys spending time with her family and friends, along with growing her small business of personalized glitter pens, pencils, and tumblers.