Are you ready for a different kind of leadership conference to help chart Georgia's future? Make plans now to attend the 2018 GeorgiaForward Forum. You'll participate in a collaborative conversation about the challenges and benefits of engaging Georgia's next generation of leaders, hear success stories from communities around the state, enjoy some great networking opportunities, and be inspired by renowned keynote speakers. The 2018 GeorgiaForward Forum will take place at the Georgia Farm Bureau in Macon on Wednesday, October 10.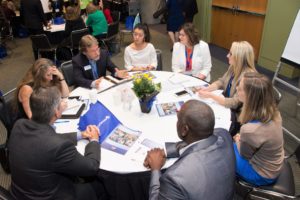 The Forum is an annual gathering of thought leaders and idea generators who explore and collaborate on ideas and strategies to help strengthen and unite Georgia. GeorgiaForward has a statewide reputation for bringing together a diverse group of people who don't typically interact. Previous Forums have attracted young professionals and elder statesmen; farmers and IT experts; politicians and bankers; teachers and architects.
"We look forward to a great cross-section of seasoned leaders and emerging leaders gathering to discuss the advantages and challenges of working side-by-side in communities around our state," states Kris Vaughn, Executive Director of GeorgiaForward. "Don't miss this opportunity to take your seat at the table and join the conversation."
Featured speakers at this year's Forum include Cathy Cox, Dean of the Walter F. George School of Law at Mercer University; Otis White, President, Civic Strategies; A.J. Robinson, President of Central Atlanta Progress and the Atlanta Downtown Improvement District; and Rodney Bullard, Vice President of Community Affairs at Chick-fil-A, Inc and Executive Director of the Chick-fil-A Foundation.
Panel discussions will be interactive and delve into ideas that are not only geared toward Georgia's largest cities but will work as creative solutions for Georgia's rural communities. Panelists participating:
Linda Buchanan, President of Andrew College (Cuthbert)
Kasey Carpenter, Real Estate Entrepreneur and State Representative (Dalton)
Amy Carter, Deputy Director of Rural Prosperity for the Georgia Department of Economic Development (Valdosta)
Santina Fryer, CEO of Ladder to Success and Gents & Glam Mentoring and City Councilmember (Baxley)
Cosby Johnson, Senior Government Affairs Manager for the Georgia Chamber (Atlanta)
Josh Rogers, President of NewTown Macon (Macon)
Registration for the 2018 Forum is $95 and is open now: www.georgiaforward.org/the-forum/ .
The 2018 GeorgiaForward Forum is sponsored by Peyton Anderson Foundation, Georgia Farm Bureau, Central Atlanta Progress/Atlanta Downtown Improvement District, Civic Strategies, Georgia CEO, GeorgiaTrend Magazine, Georgia Cities Foundation, Southern Education Foundation, Mercer University, Beverly Knight Olson Children's Hospital, Villa Rica Convention & Visitors Bureau, Georgia EMC, Moonhanger Group, NewTown Macon, Southern Regional Technical College, Georgia Forestry Foundation and Dickey Farms.
GeorgiaForward is a non-profit, non-partisan organization working to improve the state of Georgia by engaging business, political, academic and civil leaders to collaboratively shape a statewide policy agenda through their Young Gamechangers program and annual Forum.  For more information on their programs, and to find out how you can get involved, visit their web site: www.georgiaforward.org.
MEDIA Contact:  Karen Hatchett at karen@hatchettpr.com.